Election Officials / October 13, 2020
Press Release: CTCL Receives Additional $100M Contribution to Support Critical Work of Election Officials
Media contact: [email protected]                                                          ​ 
October 13, 2020
PRISCILLA CHAN AND MARK ZUCKERBERG COMMIT ADDITIONAL $100 MILLION FOR SAFE AND RELIABLE VOTING TO MEET OVERWHELMING DEMAND
Additional funds build on $300 million commitment, will meet requests for support from local election jurisdictions that surpassed initial commitment 
CHICAGO, IL ​– The Center for Tech and Civic Life (CTCL) announced today that Priscilla Chan and Mark Zuckerberg have responded to unprecedented demand for support from local election jurisdictions across the country by committing an additional $100 million to promote safe and reliable voting. Given the lack of public funds and unique challenges to election administration due to the COVID-19 pandemic, demand for the funds is on track to surpass the $300 million Chan and Zuckerberg committed to states and localities on September 1st. This new commitment will also ensure that election administrators are fully funded despite a number of legal challenges that have been filed to try to undermine their efforts.
To date, more than 2,100 local election jurisdictions have submitted applications for support to CTCL. Chan and Zuckerberg's commitment will ensure that every qualified jurisdiction that applies will be approved for the funds they need to ensure that every eligible citizen can vote safely and have their vote counted.
Building on their original donation of $300 million, Chan and Zuckerberg's commitment to supporting election infrastructure for this election cycle now totals $400 million. They have made a commitment to CTCL to increase funding by up to $100 million beyond the $250 million already committed to continue their work to provide officials with the staffing, training and equipment necessary to make sure that every voter can participate in a safe and timely way in the election.
This commitment also demonstrates a rejection of the legal challenges that have been filed in an attempt to undermine the work that state and local officials are doing to ensure that every eligible citizen has the ability to vote this election cycle. CTCL is nonprofit, nonpartisan, and committed to supporting democracy and voting as a fundamental right. Following the initial round of funding, CTCL held open calls for jurisdictions and states to apply for aid — and every eligible jurisdiction that applies, whether urban, rural, or suburban will receive funding.
"Voting is the single most important thing you can do as a citizen, and it's the way that we hold our leaders accountable. We should be doing everything we can to make it easier for people to cast their ballots. Inadequate public funds and a global pandemic have led to unprecedented challenges for election administrators throughout the country, and we are doubling down on our commitment to ensuring that every qualified jurisdiction has the resources it needs to allow every eligible citizen to vote safely and have their vote counted. These funds will serve all sorts of communities throughout the country — urban, rural, and suburban — and we remain determined to ensure that every state and local election jurisdiction has the resources they need so Americans can vote," said Chan and Zuckerberg.
"We've seen massive interest in the COVID-19 Response Grant program over the last month from over 2,100 election officials who are seeking funding to ensure safe, healthy election options for voters in every corner of the country," said Tiana Epps-Johnson, Executive Director of Center for Tech and Civic Life. "Every local election office responsible for administering activities covered by the CTCL COVID-19 Response Grant Program is eligible to apply, and every eligible election department that is verified as legitimate will be approved for a grant. I'm thrilled that these additional funds will allow us to continue to meet the tremendous demand."
BACKGROUND ON THE CTCL DONATION FOR LOCAL JURISDICTIONS
Building on Chan and Zuckerberg's original $250 million donation to CTCL, this additional $100 million commitment will bring the total funding for CTCL's efforts up to $350 million and will be used to support their ongoing efforts in local jurisdictions to expand voter access, including:
Poll worker recruitment, hazard pay, and training
Polling place rental
Temporary staffing support
Drive-through voting
Equipment to process ballots and applications
Personal protective equipment (PPE) for poll workers
Nonpartisan voter education from cities and counties
Launched in 2015, CTCL is focused on connecting Americans with the information they need to become and remain civically engaged and ensure that U.S. elections are more professional, inclusive, and secure by educating voters and supporting local election administration. CTCL works to collect and standardize the information that all eligible citizens need to be able to vote and to ensure that local election officials have the tools and trainings they need to conduct more trustworthy, inclusive elections, and troubleshoot problems ahead of Election Day.
This additional donation will enable CTCL to further scale its efforts to support election infrastructure and local election officials. With the initial $250 million in funding, CTCL issued an open call to local election officials in all states, offering support on the initiatives listed above to help ensure Americans across the country can rely on a strong electoral system this November and know that their votes will be counted. This additional $100 million will help to ensure that CTCL can meet the significant demand from local election officials for this support and that all eligible jurisdictions that apply will receive funds.
A map of jurisdictions that have applied for the funds is below as well as a breakdown of the population size of the jurisdictions. You can find further details on the grant applications linked here.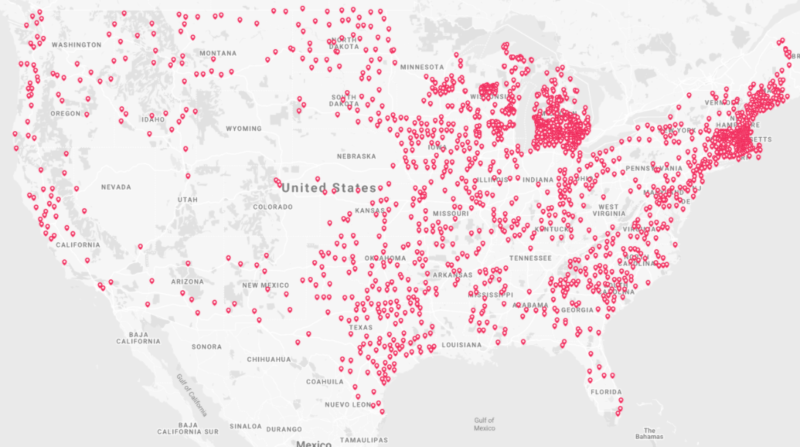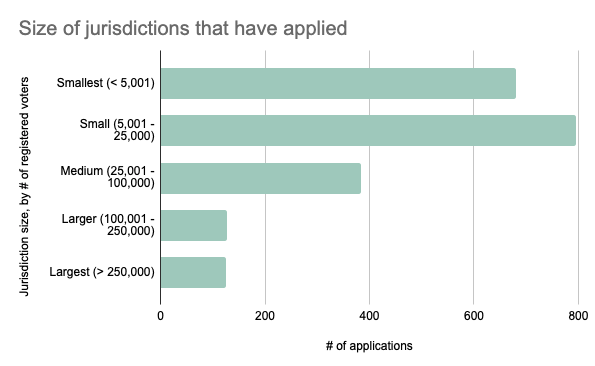 ###